Tech Riders + Stage plan
OPTION 1 (festivals, theaters, open air)
2 microphones for clarinet and bass clarinet
2 microphones for alto and baritone sax
1 bass amp (Gallien Krueger or similar – 150w minimum)
with a box, chair, or table to raise up the amp height
Drum Kit (Gretsch, Ludwig or similar)
1 x 14″ snare + stand
1 x 12″ tom
1 x 14″ floor tom (on three legs)
1 x 20″ bass drum + pedal
3 x cymbal stands (one boom stand!)
1 x hi-hat stand
1 x adjustable drum stool
1 x carpet
All drums must wear white coated heads (Remo Ambasador / Evans G1)
Transparent or oil-filled heads are unwished !!!
4 x stage monitors
---
OPTION 2 (clubs and small venues)
In clubs and small spaces, technical requirements are more or less the same as above, even though, according to the size of the venue, we can reduce the number of mics and monitors and working with a more semi-acoustic set up.
NOTES
When travelling by plane:
1 x baritone saxophone will be required
1 x double bass will be required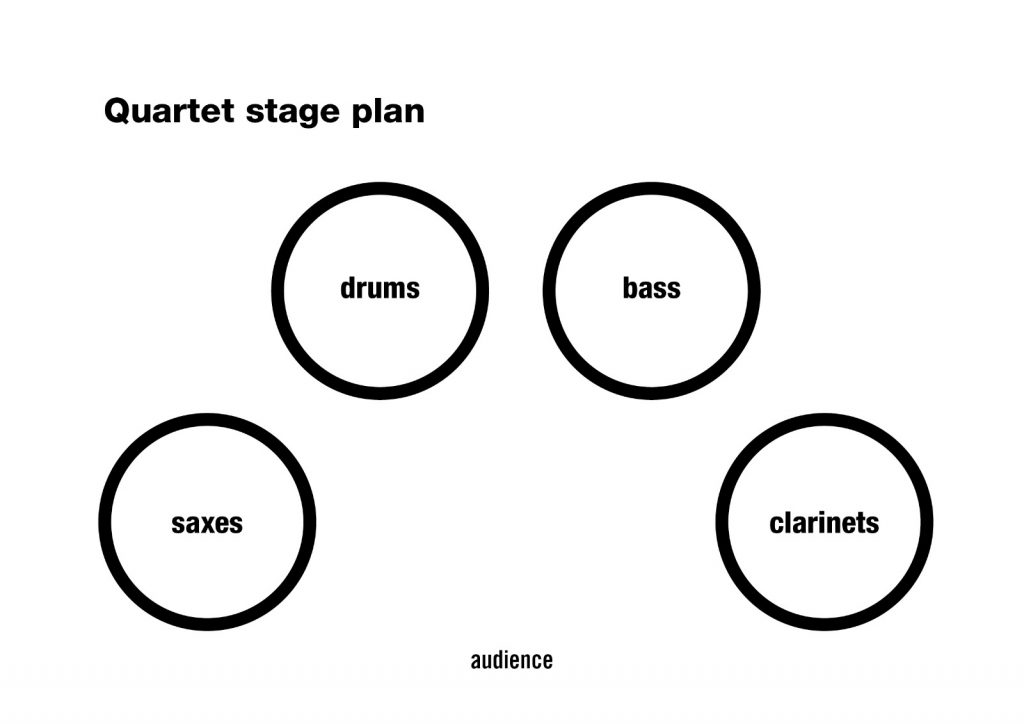 SEXTET line up
Please add the following to the above list
EUGENIO COLOMBO 2 microphones for flute and soprano sax
FRANCESCO LO CASCIO 1 vibraphone (Musser or similar) + 2 microphones + 2 solid boom stands for percussion