Italian quartet Roots Magic illuminate the links between rustic blues and earthy free jazz
Posted

By

Peter Margasak Chicago Reader 4/4/2018 at 02.55 PM

Since its beginnings, jazz has engaged with popular music, but it's largely built on the blues—throughout jazz's history, countless staples of its repertoire have pushed the genre forward using variants of the elemental blues structure. Blues feeling is integral to jazz as well, whether the quasi-microtonal cry of blue notes or the expressive style of articulation in its sobs and shouts. As jazz has developed, it's often departed from these roots, but even during the heyday of free jazz in the 60s and 70s artists found ways to meld freedom and heavy blues into something profound and gritty: pioneers such as Julius Hemphill, Olu Dara, Phil Cohran, and Henry Threadgill could write deceptively simple, soulful themes whose broad improvisational latitude their bandmates brilliantly exploited.

Sometimes it takes outsiders to recognize threads like that—the ideas that link jazz's basic building blocks to the bold practices of avant-garde explorers—and Italian quartet Roots Magic are just such outsiders. They make their Chicago debut tomorrow evening at Elastic, bringing a hardscrabble repertoire that combines Delta blues with free-jazz numbers that convey a heavy blues vibe—they connect those 60s and 70s jazz artists with much earlier blues singers such as Charlie Patton, Geeshie Wiley, and Blind Willie Johnson. Drummer Fabrizio Spera and bassist Gianfranco Tedeschi sculpt agile grooves that are somehow both swinging and dirgelike, over which clarinetist Alberto Popolla and saxophonist Errico De Fabritiis articulate earthy melodies in striated unison, frequently pulling apart for a seconds at a time and then gracefully realigning.

Roots Magic's second album, Last Kind Words (Clean Feed), includes a version of Roscoe Mitchell's classic tune "Old," which appears on his 1966 debut album, Sound; the stark Hemphill masterpiece "Dogon A.D.," originally recorded in 1972, which extracts bottomless riches from the most fundamental ostinato groove; and Threadgill's soulful grind "Bermuda Blues," released in 1986, which the Italians give a surprising dublike treatment. The record also includes a handful of originals by Popolla that occupy the same primal terrain, where eloquence emerges from simplicity. Below you can check out the group's rendition of Patton's "Tom Rushen Blues," where they tease out lovely melodic threads that have always lurked in the singer's muscular, stentorian delivery but rarely rise to the surface.
di Sandro Cerini
http://www.quadernidaltritempi.eu/qualche-altra-buona-parola-su-blues-e-free/
I Roots Magic avevano già sparigliato il 2015 jazzistico italiano sulla scia dell'album Hoodoo Blues & Roots Magic e di recensioni tutte molto favorevoli, non soltanto in ambito nazionale: si era piazzato nelle prime dieci posizioni del poll annuale della rivista Musica Jazz per il 2015, sia nella categoria "Disco italiano dell'anno", ove era risultato nono, sia in quella "Gruppo italiano dell'anno", ove si era collocato settimo. Ora per il quartetto romano, compostp da Errico De Fabritiis ai sax contralto e baritono, Alberto Popolla al clarinetto e clarinetto basso, Gianfranco Tedeschi al contrabbasso e Fabrizio Spera alla batteria e alle percussioni giunge il momento del sophomore album, sempre per l'etichetta portoghese Clean Feed.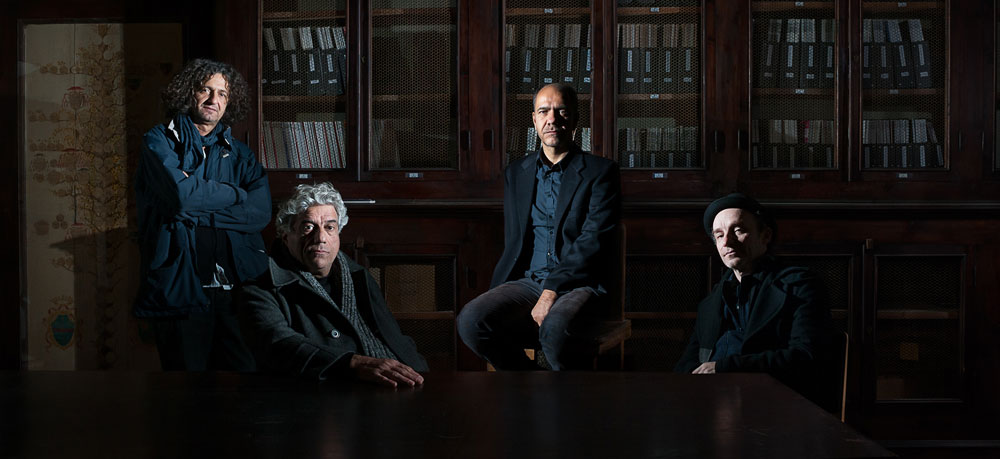 La continuità stilistica rispetto all'esordio rende Last Kind Words un ideale "secondo tempo" rispetto all'opera prima e, insieme, come lo stesso titolo sembra suggerire, la chiusura di una fase, pur risolvendosi in una forte sottolineatura del canone espressivo fatto proprio dai quattro.
Il gruppo, ispirandosi a un preciso concetto di folklore magico, caratteristico del sud rurale americano, e al contrasto di questo mondo con i ghetti urbani (endiadi ideale niente affatto casuale, che spiega in anticipo anche quale cortocircuito espressivo innervi costantemente la musica), ha preso il proprio nome dal libro Hoodoo Herb and Root Magic, erbario degli accoliti dell'hoodoo. Come ha spiegato Spera, nella scelta del nome del gruppo c'è stata anche una certa dose di casualità:
"In una fase molto embrionale della sua vita mi sono imbattuto sul web in uno strano libro, intitolato Hoodoo Herb and Root Magic, una sorta di ricettario, o meglio un manuale pratico basato sull'esperienza della tradizione magico-misterica africana-americana che va sotto il nome di hoodoo. Vi si trovano informazioni botaniche su erbe, radici e indicazioni vere e proprie su come preparare pozioni e creare talismani personalizzati (le tipiche mojo bags), per arrivare a filtri magici e cose del genere. Questa strana suggestione, che ovviamente corrispondeva già a dei nostri interessi relativi al folklore magico del Sud rurale e alla sua riscoperta in chiave «urbana» – argomenti che hanno già fatto parte della ricerca e del mondo espressivo di musicisti che ci sono cari, come, giusto per fare un nome, Julius Hemphill – spiega sia il nome del gruppo che quello del disco, Hoodoo Blues & Roots Magic" (cfr. Cerini, 2016).
E forse proprio la magia e l'hoodoo potevano spiegare (senza ricorrere a troppe complicazioni concettuali) l'evento del blues trapiantato a Roma e lo spiazzante effetto sortito dalla pubblicazione dall'album, nell'estate del 2015. Il disco fu di grandi esiti, riuscendo a fondere blues del Delta e free jazz, pur mantenendo appieno la ritualità di entrambi i contesti artistici, in modo del tutto naturale e privo di astrazione autoreferenziale, anzi con la capacità niente affatto frequente di portare verso il pubblico una musica mai compiaciuta di sé, gravida di umori e foriera d'una capacità comunicativa per più versi esplosiva, sempre viva e pulsante e mai dimentica di antiche funzioni coreutiche. In una scaletta dominata dalla tradizione nera, vecchia e nuova spiccavano il fremente impatto di The Sunday Afternoon Jazz and Blues Society e il suggestivo momento centrale, che incatenava misteriosamente Dark Was the Night e A Call for All Demons. Quali numi tutelari esplicitamente dichiarati: Charley Patton, Sun Ra, Julius Hemphill, John Carter, in una continua, vertiginosa, commistione tra vecchio e nuovo. Popolla ha spiegato così l'origine del repertorio scelto dal gruppo, focalizzando alcune sue coordinate espressive:
"All'inizio non c'era stata una programmazione definita verso questa direzione artistica e siamo andati avanti con un doppio repertorio, anche se la confluenza tra il blues e un mondo espressivo più legato alla musica improvvisata è venuta naturale. La sfida è stata quella di usare materiali provenienti dal repertorio del blues rurale – vera e propria miniera d'oro – e rimodellarli secondo l'esperienza accumulata attraverso la pratica del jazz e dell'improvvisazione. Non credo che l'autoreferenzialità sia necessariamente fonte di effetti negativi, proprio in ragione della presenza di raggruppamenti sociali diversi che possono fungere da orizzonte di attesa rispetto alle singole proposte. Vedo invece come un grande problema di questi tempi l'esistenza di un'estrema parcellizzazione: è saltata una rete che prima permetteva ai vari àmbiti di intrecciarsi fra loro. Questo inoltre è successo per quanto riguarda la mobilità trans-generazionale, fortemente ridotta se non del tutto assente" (ibidem).
La giustapposizione di tradizione e innovazione e la valorizzazione di una matrice fortemente africana-americana sono stati da subito la specifica cifra artistica del gruppo, talvolta iconizzata, nei concerti, attraverso la proposta, in sequenza di Pee Wee Blues (di Pee Wee Russell) e della già citata The Sunday Afternoon Jazz and Blues Society (di John Carter). Questo confronto intelligente e arguto, che coinvolge direttamente la storia del clarinetto, è stato utilizzato quasi a mo' di tesi, approdando a una dissertazione finale in cui i confini si confondono e gli assunti di partenza non sono poi così scontati, perché in fondo la ragion d'essere di questa musica è proprio nella tensione permanente tra la forma e la sua dissoluzione, tra il vincolo e la libertà. Tedeschi chiarisce così il punto di vista del quartetto al riguardo:
"Si pensa sempre che vi sia uno sviluppo di tipo lineare e progressivo, mentre nei fatti il sistema è circolare, spiraliforme. Noi abbiamo visto il ritorno a forme chiuse come un passo in avanti. Non vorrei fare paragoni insostenibili, ma qualcosa di analogo è avvenuto in settori artistici diversi. Ad esempio nelle arti figurative, con il cosiddetto «ritorno ad un altro ordine»: basti pensare all'ultimo Picasso, che per far sorgere figure di altri tempi si riappropria di un sistema di segni che sintetizza tutti i suoi precedenti stili. Dopo questa esperienza per me è difficile tornare a forme improvvisate totali, perché in una certa misura non mi convincono più. Può essere bello chiudersi nella gabbia ideale delle strutture se si possiede la chiave per uscirne, perché è vero che se puoi uscire puoi anche tornare quando vuoi" (ibidem).
A sua volta De Fabritiis precisa che:
"L'esistenza d'una struttura produce sempre degli effetti tranquillizzanti, ma ciò non significa che le cose siano più semplici. Per me, ad esempio, il lavoro su questo repertorio ha significato il confronto con la forma del blues non soltanto come questione stilistica ma soprattutto in relazione al contenuto. Il confronto e lo scambio con gli altri, e con Fabrizio in particolare, ha avuto un ruolo fondamentale" (ibidem).
Nell'album più recente (ove sono della partita anche Luca Venitucci, che aveva già collaborato al disco d'esordio, all'organo e al pianoforte, e Luca Tilli, al violoncello) il gruppo ha con ogni evidenza perseguito l'allargamento del proprio repertorio (obiettivo del resto tenuto in vista fin da subito) e il consolidamento d'una forma espressiva affatto personale, che lo conferma tra le realtà italiane più interessanti del momento. L'impatto complessivo è forse un po' meno travolgente di quello dell'esordio, ma esso, nell'insieme, si avvantaggia di un finissage più brillante e di una perfetta messa a punto dell'interazione dei fiati, in continua e bruciante rincorsa tra loro. Restano ferme le capacità già dimostrate da una ritmica inscalfibile e la quadratura globale di una compagine che più di ogni altra cosa dà senso alla parola gruppo, raggiungendo un totale complessivo superiore alla somma delle pure eccellenti individualità. Tra Charley Patton e Roscoe Mitchell, Julius Hemphill e Geeshie Wiley, Henry Threadgill e Pee Wee Russell, sino a giungere a Marion Brown i confini che separano vecchio e nuovo si confondono ancora e nulla ha il sapore delle cose scontate. Tra i vertici del disco vanno segnalati il brano eponimo, Tom Rushen Blues, una versione magistrale di Dogon A.D. e Pee Wee Blues. Non è un caso che si ritorni anche a Poor Me, che fu già nell'album di esordio, a segnare quasi il compimento di un ciclo ideale. Le "ultime buone parole" andavano dette e questo era il modo migliore per farlo. Una versione "quasi dub" di Bermuda Blues chiude la scaletta con uno stralunato senso di distacco che prelude al futuro, forse in parte già annunziato dalla collaborazione recente con Ab Baars e Ig Henneman.
Letture
Sandro Cerini, Intervista a Fabrizio Spera, Musica Jazz, 22 Publishing, Milano, dicembre 2014.
Sandro Cerini, Intervista ai Roots Magic, Musica Jazz, 22 Publishing, Milano, maggio 2016.