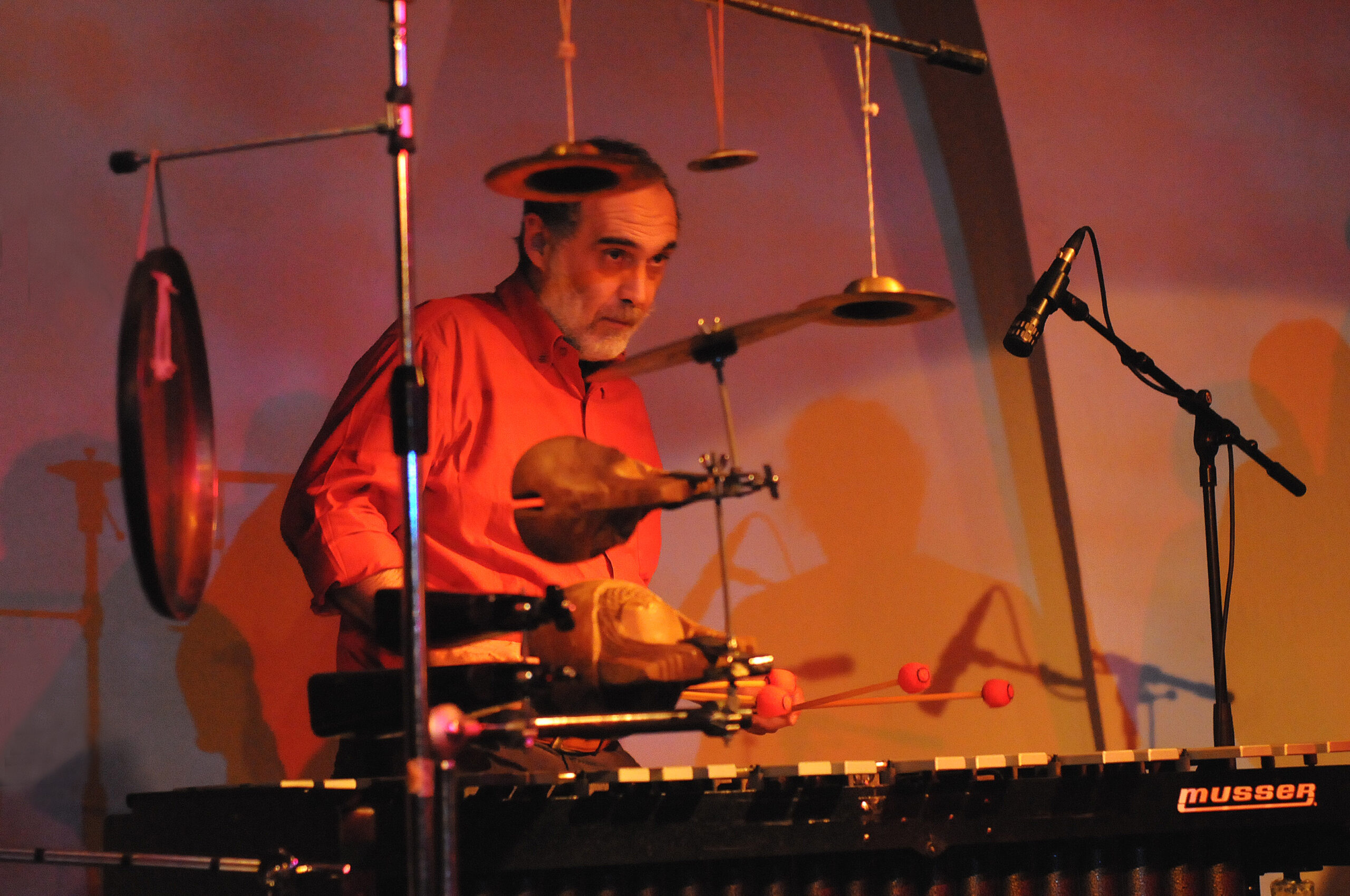 Born in Rome in 1961, he starts playing vibraphone in 1982 In 1984 he applies to Berklee College of Music in Boston, Massachusetts. There he studies with Ed Saindon and later he deepens his skills with Gary Burton and David Friedman. He studies harmony with Waine Naus and arrangement with Robert Rose. His experience as a band leader starts in 1986 with the group Silent Circus. In the following years he leads many other different bands and in 1995 puts up the Francesco Lo Cascio Vibes Trio, starring drummer Roberto Gatto and bassist Giovanni Tommaso. He plays in jazz festivals and clubs both with his band, joining resident bands and freelancing in Italy and Europe, performing and recording live and studio with artists such as Gary Bartz, George Garzone, Idris Muhammad, Gunther Schuller, Eddie Henderson, Billy Hart, Bruno Tommaso, Maurizio Giammarco, Eugenio Colombo, Giancarlo Schiaffini, Hamid Drake, William Parker, John Tchicai,
He was on the air in several Italian radio and TV broadcasts on Rai Radio 1, Rai Radio 3, Mediaset, Sky and Radio Vaticana. For the director Giorgio Barberio Corsetti and the actress Ida Di Benedetto, he composed and played music for theatre and multimedia shows.
He has taught vibraphone and music theory at Terni Jazz University and in three schools in Rome (Timba, Saint Louis and Ciac). He currently gives private lessons and leads workshops about improvisation in several Italian music schools and studios. He is author of the didactic textbooks Teoria e Armonia and Training ritmico, originally published for Ciac Multimedia Village.
COLLABORATIONS
Miroslav Vitous, Gary Bartz, "Hannibal" Marvin Peterson, Harvie Swartz, Horacio "El Negro" Hernandez, Dick Halligan, Sonny Fortune, Stanton Davis, John Ramsy, Bruce Gertz, Bob Gullotti, Manu Roche, Gunter Schuller, George Garzone, Lalo Schifrin, Idris Muhammad, Eddie Henderson, Paul Skrepek, Zsolt Sárvári Kovács, Irio De Paula, Billy Hart, Frank Tiberi, István Grencsó, Róbert Benkö, Alípio Carvalho Neto, Eri Yamamoto, William Parker, Hamid Drake, John Tchicai, Micheal Thieke
Enrico Rava, Gianni Gebbia, Roberto Gatto, Paolo Fresu, Daniel Bacalov, Barga Big Band, Paolo Birro, Salvatore Bonafede, City Brass Orchestra, Armando Corsi, Stefano Di Battista, Massimo Fedeli, Ettore Fioravanti, Maurizio Giammarco, Javier Girotto, Pasquale Innarella, Giovanni Maier, Massimo Manzi, Sandro Satta, Marco Micheli, Angelo Olivieri, PMJO Orchestra, Lillo Quaratino, Reinhardt Jazz Orchestra, Tankio Band, Francesco Di Giacomo, Ares Tavolazzi, Bruno Tommaso, Eugenio Colombo, Tino Tracanna, Giovanni Tommaso, Giancarlo Schiaffini, Federico Ughi, Massimo Urbani, U.T. Gandhi, Attilio Zanchi, Marco Colonna
 Festivals
Jazz em Agosto, Formia jazz, Umbria Jazz, Villa Celimontana Jazz, Time in Jazz, Metastasio Jazz, Novara Jazz, Open Jazz Air, Barga Jazz, Athens Jazz Festival, Siena Jazz, Fandango Jazz, Festival Zeitgenössischer Musik und Poesie, Suoni nell'Isola, Acustica, Archeo Jazz, Avellino Jazz, Avezzano Jazz, Bussin'jazz, Caprarica in Jazz, Ciampino Jazz, Esperanto, Frosinone Jazz, Festival delle Serre, Gezziamoci, Il Moro Jazz Festival, Jazznet, La Palma Jazz, L'Aquila Jazz Festival, Latina Jazz, Le Acustiche, Orsara Jazz, Quercia del Tasso Jazz, Roccella Jazz, Roma Jazz-Fusion, Sarzana International Guitar Meeting, Sperlonga Jazz Festival, Sulle Strisce del Jazz, Teano Jazz