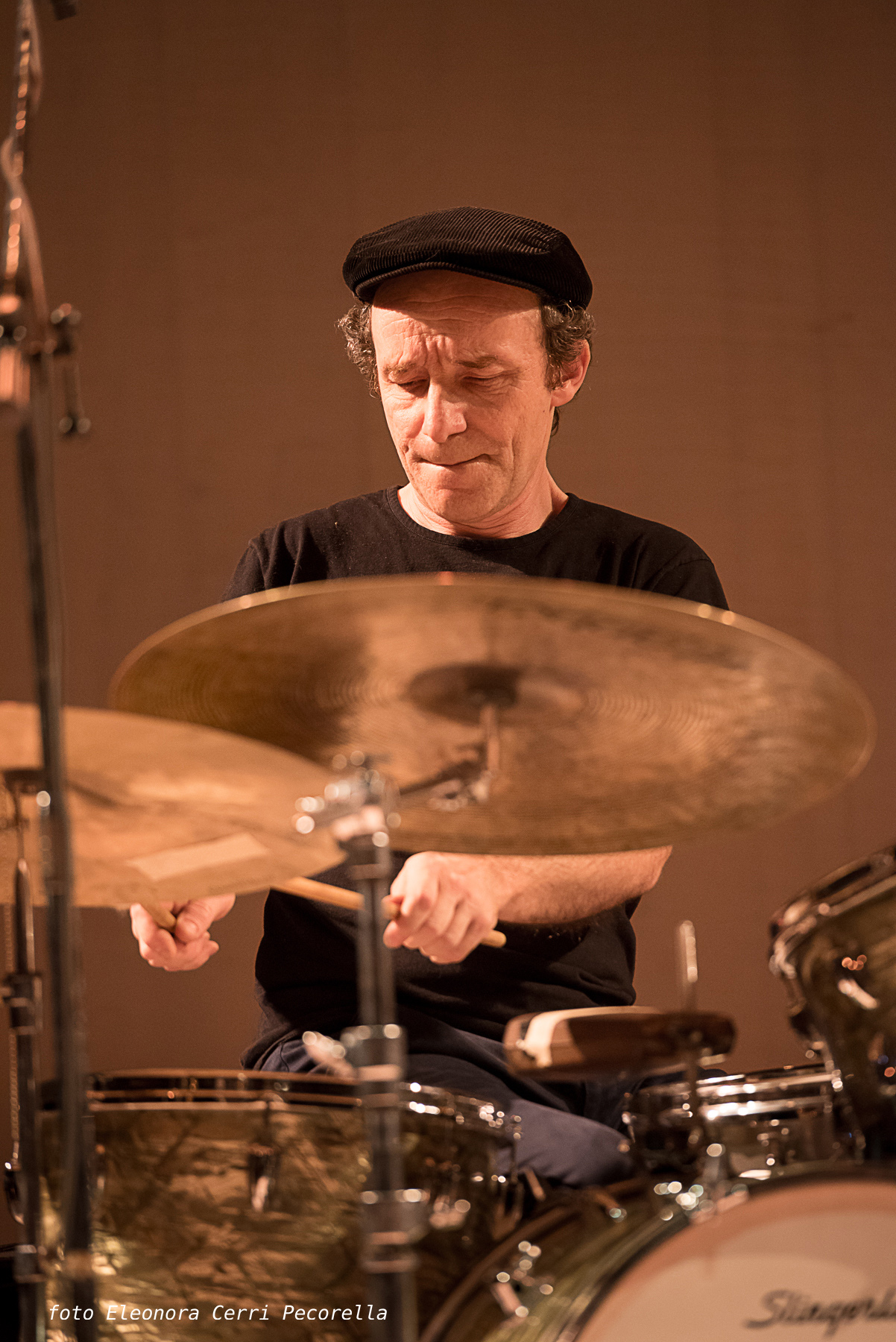 He Was born in Rome and has been active for many years, as musician and organizer, in the field of experimental and improvised music. He is a founding member of groups such as Ossatura, Eco d'Alberi, Roots Magic and others.
He has played in concert and recorded with:
Peter Kowald, Wadada Leo Smith, Butch Morris, ROVA, Larry Ochs, Lisle Ellis, Tim Hodgkinson, Mike Cooper, Thomas Lehn, John Butcher, John Edwards, Veryan Weston, Lol Coxhill, Tristan Honsinger, Jack Wright, Hans Koch, Michel Doneda, Alfred Harth, Evan Parker, Phil Minton, Axel Dorner, Michael Thieke, Ab Baars, Ig Henneman, Alvin Curran, Mazen Kerbaj, Sharif Sehnaoui, Michael Zerang, Wolfgang Fuchs, Martin Kuchen, Frank Gratkovski, Alberto Braida, Mario Schiano, Sebi Tramontana, Marco Colonna, Roberto Bellatalla, Fabrizio Puglisi, Sandro Satta, Giancarlo Locatelli, Giancarlo Schiaffini, Eugenio Colombo, Guido Mazzon, Renato Geremia, Edoardo Marraffa, Filippo Monico, Massimo Falascone, Cristian Calcagnile, Vincet Courtois, Steven Baczowski...
He played and toured throughout Europe, United States, Canada, Japan, Korea and Lebanon appearing at festivals and concerts like:
Festivals
Vision Festival (New York) Konfrontationen (Nickelsdorf) Taktlos (Zurich) Meteo (Mulhouse) London Musician's Collective (London) Musique Actuelle (Victoriaville) Total Music Meeting (Berlin) Angelica (Bologna) Music Unlimited (Wels) Musique Action (Vandœuvre-lès-Nancy) Musique Innovatrices (Saint-Étienne) Tampere Jazz Happenings (Tampere) Yokohama Jazz Promenade (Yokohama) Ring Ring (Belgrade) Densité (Fresnes en Woevre) Irtijal (Beirut) November Music (Denbosch-Ghent-Essen) Creative Music Series (San Francisco) Jazz Im Goethe Garten (Lisboa) Humanoise Congress (Wiesbaden) Le Weekend (Stirling) Jazz Cerkno (Cerkno) Alternativa (Prague) Open Circuit (Hasselt) NovaraJazz (Novara) Europa Jazz Festival (Noci) An Insolent Noise (Pisa) Clusone Jazz (Clusone) Artacts (St.Johann in Tirol) AI confini tra Sardegna e Jazz (St.Anna Arresi) Juke Joint Festival (Clarksdale MS) Jazz em Agosto (Lisboa)
Clubs, Art Galleries and other venues
Bim Huis (Amsterdam) Vortex (London) Loft (Koln) Rote Fabrik (Zurich) Porgy & Bess (Wien) Cafè Oto (London) Jazzatelier (Ulrichsberg) Worm (Rotterdam) Fylkingen (Stockholm) Mandala 2 (Tokyo) Ort (Wuppertal) Instants Chavirés (Paris) Big Apple (Kobe) Amr (Geneva) Paradox (Tilburg) Area Sismica (Forlì) Elastic Arts (Chicago)

Renaissance Society (Chicago) Temple Gallery (Philadelphia) Kumo Hall (Seoul) Chicago Cultural Center (Chicago) Slought Foundation (Philadelphia) Mirò Foundation (Barcelona) Evergreen State College (Olympia) Ohio University (Athens) La Friche (Marseille) Grim (Marseille)
Electroacoustic Music Centers
GMEB (Bourge) GMEA (Albi) GMEM (Marseille) DIEM (Aarhus)