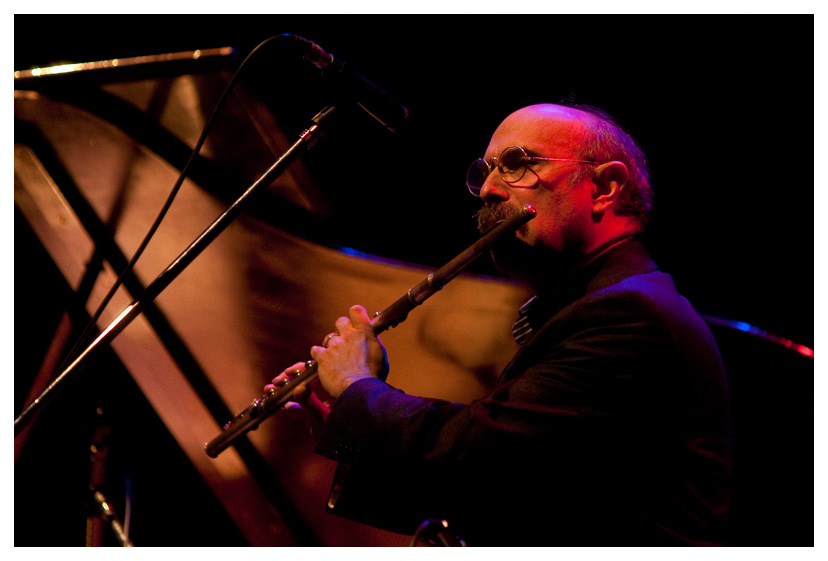 Saxophonist, flute player, composer, he was born in Rome in 1953.
Initially self-taught as an instrumentalist and as a composer, he began his career improvising in a variety of musical genres and composing music.
In 1982 he graduated in Saxophone at "Licinio Refice" Frosinone Music Conservatory under the guidance of Baldo Maestri. Later he studied composition with Michele Dall'Ongaro at the Testaccio Community School of Music in Rome.
He has composed for solo instruments, saxophone quartets, string trios, big band and brass band with improvisation solists.
He is one of the founder members of the Italian "Instabile Orchestra".
He performs with numerous artists such as Giancarlo Schiaffini, Giovanna Marini, Anthony Braxton, Demetrio Stratos, Misha Mengelberg, Bruno Tommaso, Steve Lacy, Cecil Taylor, Martin Joseph etc.
a. didattica
2016-2021 Insegnante di saxofono presso il conservatorio L. Refice di Frosinone
2016-2017 Insegnante di storia del jazz presso il conservatorio L. Refice di Frosinone
2014-2016 Insegnante di saxofono presso il conservatorio Santa Cecilia di Roma
1989- 2014 Insegnante di saxofono presso il conservatorio L. Refice di Frosinone
2004- 2014 Insegnante di storia del jazz presso il conservatorio L. Refice di Frosinone
1987-88 Insegnante di saxofono presso il conservatorio L. Perosi di Campobasso
1984-1987 Insegnante di saxofono presso il conservatorio di E.R. Duni di Matera
b. studio
2014. Diploma e abilitazione all'insegnamento Yoga
corso quadriennale presso Federazione Mediterranea Yoga
1982. Attestato finale del Corso Straordinario di Saxofono presso il conservatorio di
Frosinone,
c. composizioni
Nel 2022 Musica Practica pubblica "Cinque danze alla fine della notte" per due saxofoni.
Nel 2021 Musica Practica pubblica "Cinque studi per un folklore immaginario" per ogni
sorta di saxofono. Nel 2018 il comune d'Imola gli commissiona una composizione
originale "Ciricòccola" per piccola orchestra. Nel 2011 Insieme Onlus gli commissiona le
musiche per il documentario "Nessuno Escluso" della regista Caterina Congia. Nel 2006 e
nel 2004 collabora con la regista Francesca Catarci componendo le colonne sonore dei
documentari "Fiat: orgoglio e rabbia" e "Ritratti da piccoli per R.A.I. 3. Nel 2003 Enzo
Gallo per Centrale D'essai S.r.l gli ha commissionato la composizione delle musiche per il
film "Alla Fine della Notte" di Salvatore Piscicelli. Dal 1998 collabora con la compagnia
Movimentoinactor, per cui ha composto le musiche delle coreografie, per diversi
spettacoli, fra tutti si ricorda "Il Minotauro infranto" Nel 1998 la Falco Film gli ha
commissionato la composizione delle musiche per il film "Rose e Pistole" della regista
Carla Apuzzo. Nel 1997 la Jungle Films di Bruxelles gli ha commissionato la
composizione delle musiche per il film "Mon Frère, ma Soeur vendus pour quelques lires"
del regista italobelga Basile Sallustio. Nel 1993 il "Festival dei Popoli" di Firenze gli ha
commissionato una composizione originale "Giuditta" per tre voci e per tre strumenti. Nel
1986 il suo pezzo "Sabra"è stato segnalato nel concorso di composizione "F. Evangelisti".
d.collaborazioni
Dal 1975 ha suonato in molte città e festival europei (tournee in Sud America, Giappone,
Canada, Stati Uniti, Kenia, Cameroun, Arabia Saudita), collaborando e incidendo con
musicisti come: Giancarlo Schiaffini, Bruno Tommaso, Gianni Lenoci, Maria Pia De Vito,
Paolo Fresu, Maurizio Giammarco, Demetrio Stratos, Giorgio Gaslini, Enrico Rava, Mario
Schiano, Ettore Fioravanti, Ekkehard Jost, Misha Mengelberg, Martin Joseph, Anthony
Braxton, Alvin Curran, Cecil Taylor, Bernd Konrad, Evan Parker, Steve Lacy ecc. Dal
1990 è membro dell' Italian instabile Orchestra. Nel 1976 è stato tra i fondatori della
Scuola Popolare di Musica di Testaccio.
Hanno scritto per lui compositori come: Carlo Crivelli, Michele Dall'Ongaro, Giovanna
Marini, Walter Zimmerman, Giorgio Colombo Taccani, Edward Haubensak ecc
e. attività concertistica selezionata
1978 Italia: Musica Città – Accademia musicale napoletana – Napoli, Teatro La Fenice –
Venezia, Teatro Municipale – Reggio Emilia, Festival Nuova Consonanza – Roma,
Festival Musica Contemporanea – Bolzano
1979 Italia: Recitarcantando79 – Cremona, Creatività e Improvvisazione RAI Auditorium
del Foro Italico – Roma, Teatro Rendano – Cosenza, Svizzera: Le parole della Musica –
Lugano
1980 Italia: Festival musica contemporanea – Bolzano, Teatro dell'Opera – Roma,
Svizzera: Tage Improvisiert Musik – Zurigo
1981Italia: Stagione Nuova Consonanza – Roma
1982 Italia: Recitarcantando 1982 – Cremona, Olanda: Festival Niewe Muziek –
Middelburg, Stedelijk Museum - Amsterdam
1983 Francia: Festival di Avignone, Musiques Saison – Marsiglia, Italia: Jazz festival –
Roccella Jonica, Spagna: Teatre Grec de Montjuic – Barcellona
1984 Francia: Centre G. Pompidou – Parigi, Italia Musica nel Nostro Tempo – Milano,
1985 Italia: Nuove Forme Sonore – Roma, Musica Verticale – Roma
1986 Svizzera: Die Rote Fabrik – Zurigo, Germania: Frankfurter Kulturzentrum –
Francoforte, Italia: Festival internazionale del jazz – Milano
1987 Italia: Villa Massimo – Roma, Made in Italy – Bologna, Svizzera:
Fabrikkompositionen – Zurigo
1988 Italia: Festival Arte Elettronica – Camerino, Festival Jazz - Clusone, Time in Jazz –
Berchidda, Musica Oggi – Latina, Svizzera: Musikkollegium Zurcher Oberland – Zurigo
1989 Italia : Biennale Musica – Venezia, Francia: Festival M.A.N.C.A – Nizza, Europa Jazz
Festival – Le Mans
1990 Italia: L'immagine elettronica – Ferrara, Festival Musica Contemporanea il Coretto –
Bari, Grecia: festival Musica Contemporanea – Patrasso
1991 Italia: Nuove Forme Sonore – Roma, Time in Jazz – Berchidda, Svizzera:
International Jazz Festival Zurigo
1992 Francia: Festival Jazz – Rive de Gier, Jazz Festival – Mulhouse, Rencontres
Internationales de Jazz – Nevers, Germania: Big Band Meeting – Monaco, New Jazz
International Jazz Festival – Moers, Svizzera: Internationales Jazz Festival – Zurigo, Italia:
Teatro Verdi – Sassari
1993 Italia: Musica dei Popoli – Firenze, Società Aquilana dei Concerti "Baratelli" –
L'Aquila, Francia: Europa Jazz Festival – Le Mans, Germania: Jazz an die Donau –
Vilshofen, Olanda: Jazz Marathon – Groningen
1994 Germania: Ost-West Jazz Festival - Norimberga, Italia: Rumori Mediterranei –
Roccella Jonica, Festival Jazz – Bergamo, Francia: Jazz Festival – Grenoble, Repubblica
Domenicana: Teatro Nacional – Santo Domingo
1995 Francia: Jazz Festival – Grenoble, Maison del la Culture – Chambery, Festival Jazz –
Mulhouse, Italia: Settembre Musica –Torino, Festival Jazz – Bergamo, Romaeuropa Festival
– Roma, Teatro Comunale – Modena, Germania: Berliner Jazztage – Berlino, Big Band
Meeting Jazz & More – Monaco, Nacht Musik in WDR – Colonia
1996 Germania: Stadtgarten / WDR – Colonia, Francia: Banlieues Bleues Jazz Festival –
Parigi, Fete de la Musique –Parigi, Svizzera: Jazz Festival – Willisau, Italia: AterForum
Festival – Ferrara, RAI Radio 3 Live Radio Broadcast – Roma, Portogallo: Festival de Jazz
– Porto
1997 Francia: Sons d'Hiver – Parigi, La Villette Jazz Festival – Parigi, Germania: St.
Ingebert Jazz Festival, Kultursommer –Giessen, Italia: Salone della Musica –Torino, Teatro
Carlo Felice – Genova
1998 Francia: Festival de Jazz, Rive-de-Gier; Italia: Teatro Reggio – Parma; Time in Jazz –
Berchidda Spagna: Festival Jazz – Madrid, Italia: Nuove Forme Sonore – Roma, Fabbrica
Europa – Firenze, Portogallo – Theatre Culturgest – Lisbona, Festival Jazz – Faro
1999 Francia: Sons d'Hiver Festival – Parigi; Europa Festival – Le Mans, Festival Fine
Millennio – Nantes; Italia: Biennale Musica – Venezia, Teatro Metastasio – Prato,
Germania: Internationales Jazzfestival – Munster, Austria: Jazz Festival – Graz, Spagna:
Festival Jazz – Siviglia
2000 Inghilterra: Internationales Music Festival – Bath, Canada: Jazz Festival – Vancouver;
Downtown Jazz Festival – Toronto; Festival International de Jazz – Montreal; USA: Annual
Jazz Fest – Chicago, Italia: Teatro Verdi – Pisa, RAI Radio 3 Live Radio Broadcast – Roma
2001 Slovenia: Jazz Festival – Ljubljana; Macedonia: Jazz Festival – Skopje, Giappone:
Jazz Promenade Festival – Yokohama, Fukui Festival – Saba Shi, Portogallo: Culturgest –
Lisbona, Jazz Festival – Guimaraes
2002 Francia: Banlieues Bleues – Parigi; Germania: Come Sunday Kulturzentrum –
Monaco, Tollhaus Kulturzentrum – Karlsruhe
2003 Norvegia: Jazz Festival – Voss; Germania: Jazzforum – Darmstadt, Stadt Halle –
Dingolfing, Domicil – Dortmund, Olanda: Bimhuis – Amsterdam, SJU – Utrecht, Italia:
Teatro Verdi – Pisa
2004 Francia: Festival en Isère – Grenoble; Spagna: Festival Internacional de Jazz di
Otono – Salamanca; Germania: Akut Festival – Magonza.
2005 Inghilterra: Art Council of UK, Contemporary Music Network Tour, Jazz Festival
Purcell Room – Londra, Royal Northern College of Music – Manchester, Wesley Memorial
Church – Oxford, Turchia: Akbank Jazz Festival – Istanbul, Canada: Vancouver Jazz
Festival – Vancouver, Downtown Jazz Festival – Toronto
2006 Germania: Westdeutschen Rundfunk – Colonia; Portogallo: Jazz in the Park – Porto,
Spagna: Festival de Jazz Imaxinasons – Vigo
2007 Italia: Jazz Festival – Bolzano, Festival Nuova Consonanza – Roma, Algeria: Istituto
Italiano di Cultura – Algeri
2008 Italia: The Cage Train – Bologna; Auditorium Parco della Musica – Roma.
2009 Columbia: Jazz Festival – Bogota; Argentina: Istituto Italiano di Cultura – Cordoba,
Teatro 25 de Mayo – Buenos Aires, Cameroun: International Festival Ya Jazz 2009 –
Yaoundé Istituto Italiano di Cultura – Douala.
2010 Kenia: Istituto Italiano di Cultura – Nairobi; Germania: Gasteig Philharmonic –
Monaco, Rep. Ceca: Istituto Italiano di Cultura – Bratislava, Italia: Festival Nuova
Consonanza – Roma.
2011 Svezia: Academy of Music and Drama – Gothenburg, Danimarca: Istituto Italiano di
Cultura – Copenaghen
2012 Germania: Elbjazz Festival – Amburgo; Italia: Festival Jazz – Novara.
2013 Italia: Accademia Filarmonica Romana – Roma, Portogallo: Casa da Musica – Porto,
Cile: Festival Jazz EU – Santiago
2014 Italia: Casa del Jazz – Roma
2015 Arabia Saudita: Consolato Italiano – Jeddah